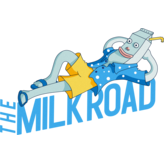 The Milk Road
Get smarter about crypto.
270K

Subscribers

42%

Open Rate

1%

CTR
About
Milk Road is a secret weapon for staying up to date on crypto as many of their newsletters focus on pricing updates, chart analysis, expert opinions, technical insights, and community news.
Readers are web3 techies, NFT collectors, C-suite executives, investors, founders & crypto enthusiasts.
Start advertising with this publisher.
Available Channels
Email
Contact for pricing

Email

Milk Road Newsletter Sponsorship

Sent Monday through Sunday

Milk Road Newsletter Sponsorship

Sent Monday through Sunday