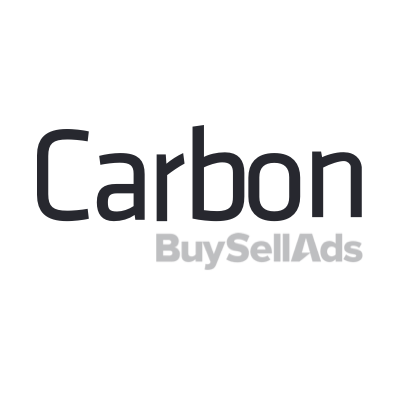 Carbon
An exclusive network of design and developer websites.
600+

Websites and Apps in the Design/Dev Space

250M+

Impressions

Whitelisted

On Ad-block
About
Carbon is an exclusive network of leading design and development websites across the web. Carbon is the best way to access hundreds of communities, blogs, resources, and tools for technical audiences. Period.
Reach technical audiences that ignore traditional ads.

Catch creatives at work, solving real problems.

Run contextual ads alongside industry-leading content.

From industry leaders like Slack and Microsoft to startups like Buildkite and Sentry.
Start advertising with this publisher.
Available Channels
Native
Well-designed native ads that live alongside content that design and development communities know, love, and trust.
Contact for pricing

Native

Carbon Creator Circle

Reach creators/designers inside leading communities & resources

Carbon Creator Circle

Reach creators/designers inside leading communities & resources

Contact for pricing

Native

Carbon Development Circle

Reach developers through leading personal publications & framework documentation

Carbon Development Circle

Reach developers through leading personal publications & framework documentation

Contact for pricing

Native

Native CPC Creators

Reach creator & designer audiences

Native CPC Creators

Reach creator & designer audiences

Contact for pricing

Native

Native CPC Developers

Reach creators developer audiences

Native CPC Developers

Reach creators developer audiences